From Transactional to Transformational


RemitMax adds value to the entire revenue cycle at Adena Health System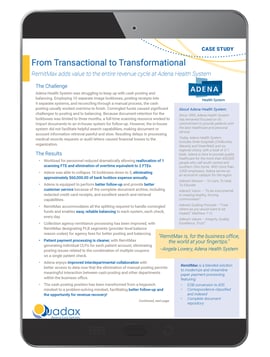 Adena Health System was struggling to keep up with cash posting and balancing. Employing ten separate image lockboxes, posting receipts into nine separate systems, and reconciling through a manual process, the cash posting staff usually worked overtime to finish.
By implementing RemitMax, Adena dramatically reduced their workload, allowing for reallocation of personnel while eliminating significant lockbox expense. In fact, the benefits of RemitMax have extended beyond receipts-handling to impact the entire revenue cycle at Adena.
"RemitMax has changed every department within the business office. It's made everybody's job so much easier."
Know someone else who would find this case study useful?
Share with your networks!