Ensuring the Revenue Cycle Gets a Clean Bill of Health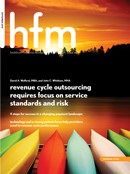 Featured in HFM Magazine, this article by Eric Matson (Director of Product Development at Quadax) discusses the preventive action required to create clean claims and reduce the incidence of denied claims, in order to keep cash flowing. Producing cleaner claims is foundational to reducing denials and improving revenue cycle performance.


If you missed the article on the HFM website, here's your opportunity to download the resource for free.
In this article:
Producing "clean" claims that are immediately payable is an important factor in reducing cost-to-collect.

Combining the application of high-quality technology with a focus on continuous process improvement are essential components of effective efforts to optimize claim submittal.

To be most effective, an organization's approach to ongoing process improvement should feature collaboration, analysis, and productive action with clear accountability.